ColorSave 1000 Gravimetric Color Feeder
Introduction
Comet's ColorSave 1000 is a state-of-the-art, precise, single component gravimetric feeder for color concentrate and additives. The ColorSave ensures uniform, precise metering regardless of material density changes. Its compact, low hopper profile design makes it ideally suited for installation on injection molding, extrusion, and blow molding machines. Use the ColorSave 1000 instead of a volumetric feeder to ensure overall savings by reducing color concentrate tolerance values.
The ColorSave 1000 offers significant savings when compared to volumetric feeders and batch blenders:
Saves up to 50% on color concentrate/additives when compared to volumetric feeders by reducing tolerance values.
Saves up to 35% when compared to remote batch blenders.
Saves up to 15% when compared to on-the-machine throat batch blenders.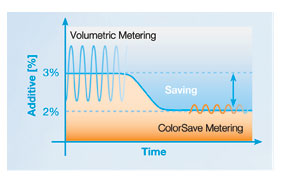 Features
Accurate consistency prevents over-metering material.
Easy maintenance and cleaning when switching colors or material.
Simple operation with automatic calibration (zero setup time) ensuring maximum efficiency.
Proprietary control software for real-time data collection and management of color concentrate consumption.
Integrated automatic Venturi vacuum loader for color concentrate.
Loss-in-weight control function for optimum adjustment of the operating point.
Improves final product quality and reduces the number of rejects.
Patented inner weigh hopper ensures resistance to mechanical shock and vibration.
Consistent delivery of shot-weight.
Easy setup time, stores up to 999 recipes.
Easily replace feed screw.