CRV Series Rotary Valve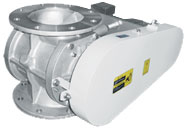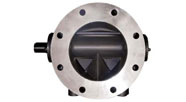 Feed Port Shape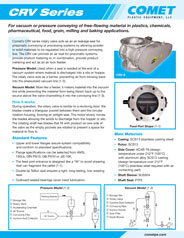 Introduction
The CRV series rotary valve acts as an air leakage seal for pneumatic conveying or processing systems by allowing powder or solid materials to be regulated into a high pressure conveying line. The CRV can provide an air seal for pneumatic systems, provide product metering or, in combination, provide product metering and act as an air lock feeder.
Two Versions Available
Pressure Model: Used when a seal is needed at the end of a vacuum system where material is discharged into a silo or hopper. The rotary valve acts as a barrier, preventing air from blowing back into the pressurized vacuum line.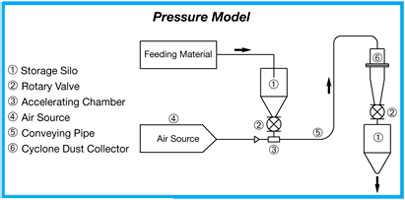 Vacuum Model: More like a feeder, it meters material into the vacuum line while preventing the material from being blown back up to the source above the valve channeling it into the conveying line.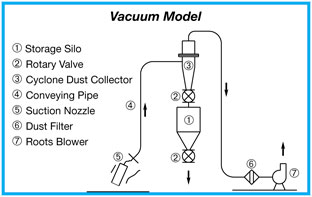 How It Works: During operation, the rotary valve is similar to a revolving door: the blades create a triangular pocket between them and the circular rotation housing, forming an airtight seal. The motor slowly moves the blades allowing the solids to discharge from the hopper or silo. The rotating shaft has blades that fill with product on one side of the valve as the empty pockets are rotated to present a space for material to flow in.
Features
Upper and lower flanges assure system compatibility and conform to standard specifications.
Flange specifications can be selected from ANSI, 150 lb, DIN PN10, GB PN10 or JIS 10K.
The feed port entrance is designed like a "W" to avoid shearing that can fragment the pellet.
Double lip Teflon seal ensures a tight, long-lasting, low-wearing seal.
Outboard sealed bearings never need lubrication.
Main Materials
Casing: SCS13 (stainless casting steel)
Rotor: SCS13
Side Cover: AC4B-T6 (design temperature under 212°F (100°C) with aluminum alloy SCS13 casting (design temperature over 212°F (100°C) (stainless steel required with air contacting part)
Shaft Sleeve: SUS304
Shaft Seal: PTFE s never need lubrication