Allen-Bradley Custom Control System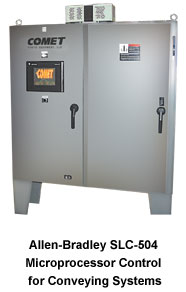 Introduction
Allen-Bradley controls set the standard for reliability and flexibility. They are the key to lowering production costs, improving throughput, and increasing quality and flexibility. Comet offers highly integrated control solutions from Allen-Bradley to assure your system will be able to solve all these challenges.
Custom Allen-Bradley controls include all programming software and documentation as part of the Comet package. Programmed data storage is complementary so you can easily modify or expand the controls while being assured your original software is safe. Time and cost saving benefits result in faster startups from Comet's pre-integrated products, all designed to work together. Allen-Bradley parts and software support are available worldwide.
Features
Comet can also build controls using Modicon, Siemens, Omron, and B&R controls.