3DX-M Micro Compressed Air Resin Dryer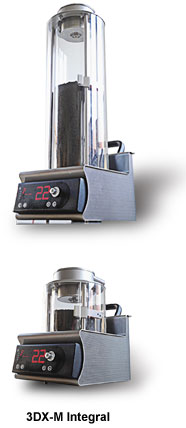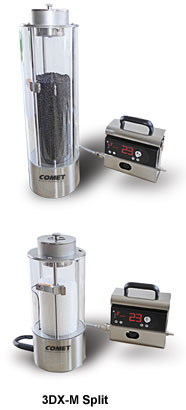 Introduction
Comet's 3DX-M micro compressed air dryer series is are energy efficient, dryers and are ideally suited for small and micro injection molding machines. They are feature a double wall of Borosilicate glass for optimal thermal protection.
There are three hopper sizes available: 2, 4 and 7 liters with throughput ranges from .05 to 4 kg/hr. All three hopper sizes are available in two versions, 3DX-M Integral and the 3DX-M Split. The Integral version has the main components built into one unit, while in the Split version, the process air module and the hopper are separated to allow a more flexible installation and to take the weight off the processing machine.
The 3DX-M is suitable for all types of plastics and works without a desiccant dryer or the need of cooling water. With literally no moving parts, maintenance is not necessary and clean is reduced to an absolute minimum.
Features
Process air with dewpoints of -13°F ( -25°C). If needed for applications such as the production of PET performs, the dewpoint can be lowered to -85°F / -65°C).
Throughputs from .05 to 4 kg/hr. and 2, 4 and 7 liter hopper sizes.
Compact, completely modular, and highly flexible.
Large display enables reading distances of up to 40 feet.
Automatic temperature controller with flexible electronic control.
Totally adjustable material sensor combined with an automatic compressed air loading device.
Automatic filling with adjustable filling level sensor.
Programmable timer, batch drying, updates and analysis.
Easy installation, low maintenance and has the lowest energy consumption of dryers on the market today.