HCD Honeycomb Matrix Drying System
Introduction
HCD Series Honeycomb drying systems are built using the Rotating Honeycomb principle. A rotor slowly turns while a cycle of dehumidification, regeneration, and cooling is repeated simultaneously. This drying system provides a constantly lower dewpoint than desiccant, compressed air, or vacuum dryers. Because this unique system operates in continuous drying mode, it is able to maintain dewpoints of at least -60°F (-50°C), continuously.
A closed loop circuit design eliminates the risk of moisture re-absorption and is suitable for polymer drying applications involving large quantities of hygroscopic material.
The Honeycomb Principle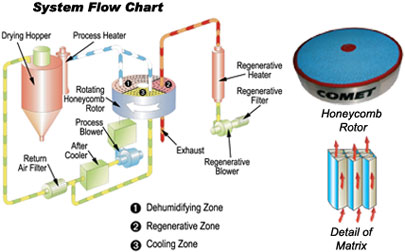 The main section of the honeycomb rotor is made of ceramic fiber and organic additives that are sintered under a high temperature with a molecular sieve and silica gel acting as the bonding material binding it to the inside of the honeycomb, thus forming the honeycomb-like structure.
The moisture of the return air is quickly absorbed by molecular sieves when passing through the numerous holes within the honeycomb rotor. When it comes out of the rotor, it forms a low dry air dewpoint. Regenerating and dehumidifying have a similar principle and run simultaneously. The only difference is that the two process blowing actions are in opposite directions.
A honeycomb rotor is superior to common desiccant or rotary molecular sieves because over time, desiccant beads will produce dust in the processed air to the drying hopper and contaminate the plastic material.
The honeycomb rotor is easy to clean and has along service life. It does not saturate like molecular sieves that require regular replacement.
Features
Compact, space saving size for easy movement
The insulated drying hopper features down-blowing dry air and a cyclone exhaust design to improve drying efficiency and reduce energy consumption while maintaining a steady drying effect
The dehumidifying section features two condensers ensuring a low return air temperature and dewpoint
Material processing is controlled by a microprocessor with an optional PLC touch screen control
The dewpoint monitor can be fitted to check the dry air dewpoint