SG-50 Soundproof Central Granulator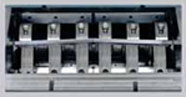 Cutting Chamber
Preset Knife Jig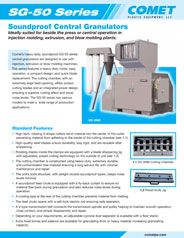 Introduction
SG-50 series medium size soundproof central granulators are designed to use with centralized granulation or beside the press operation with injection, extrusion or blow molding machines. The fully accessible tangential cutting chamber, with clamshell opening hopper and drop down screen chamber, allows for quick blade replacement. The paddle rotor design minimizes dust, noise levels and is less subject to wear when processing abrasive materials. The SG-50 series has various models to meet a wide range of production applications.
Features
High-tech, rotating V-shape cutters send material into the center of the cutter preventing material from adhering to the inside of the cutting chamber
High-quality steel blades ensure durability, stay rigid, and are reusable after sharpening
Rotating blades inside the clamps are equipped with a blade sharpening jig with adjustable, preset cutting technology on the outside of unit
The cutting chamber is constructed using heavy-duty, extremely durable, and contamination free material ensuring a long service life with minimal maintenance and repair
The unit's solid structure, with airtight double-soundproof layers, keeps noise levels minimal
A soundproof feed chute is equipped with a fly-back curtain to ensure no material flies back during granulation and also reduces noise levels during operation
A cooling pipe at the rear of the cutting chamber prevents material from melting
The feed chute opens with a self-lock electric rod ensuring safe operation
A V-type transmission belt connects the transmission spindle and pulley helping to maintain smooth operation, close contact, and simple disassembly and repair
Depending on your requirements, an adjustable cyclone dust separator is available with a floor stand
Extra fixed knives and balance are available for granulating thick or heavy material increasing granulating capacity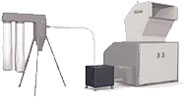 Separate Conveying Blower
The blower is situated outside the unit. You can choose different types of blowers.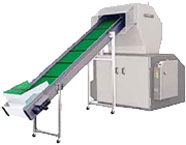 Feeding Hopper for Conveyor
A material feeder for large granulators is usually conveyed from below. Comet has a specially designed belt conveyor to easily move the material into the cutting chamber of SG-50 series.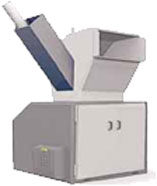 Material Side Feed Pipe
The design of the feeding hopper of traditional granulators is not suitable for longer pipes and profiles. Comet has designed a material side feed pipe for convenient feeding of longer scrap materials.