Tilt Tables
Introduction
Comet's floor level Tilt Tables reduce manual labor and operating costs associated with vacuuming material from gaylords, drums and other containers. The automatic tilting action directs the material towards the vacuum wand resulting in uninterrupted flow of material to injection molding or extruder machines.
Containers are loaded at floor level, into the standard 44″ w x 44″ pivot cradle using a pallet jack, hand truck, or fork truck. Containers will automatically begin tilting when the gaylord reaches approximately 900 pounds. As the gaylord container is being emptied, the tilt table is gradually tilted up to a maximum of 45 degrees; all material is then directed into one corner ensuring complete product removal with minimal operator involvement.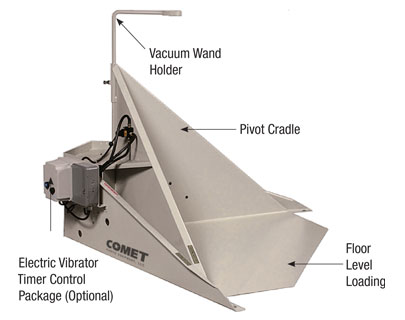 Features
Automatic or manual tilt action to a maximum of 45 degree tilt angle.
Pneumatic activation includes complete pneumatic controls for all devices and a 3-position manual air control valve.
Hand lever control valve is mounted to the pivot cradle of the system and includes all necessary filter regulators, lockouts, and components providing a single air line connection.
Flow control adjusts operating speed to tip at heavier or lighter set points and comes factory preset at 43 PSI.
Constructed of formed 7-gauge steel deck.
Adjustable height vacuum wand holder with a 3-1/2″ I.D, providing 12″ of adjustment to accommodate various container heights.
Pillow cradle is designed to accommodate containers up to 48″ square by approx. 60″ tall, but can be modified to accept other container sizes.
Double convoluted industrial air bag.
Specifications
Capacity: Rated at 2,500 lbs.
Base Frame and Tilting Bucket: 7-gauge steel
Wand Holder: 3/4″ dia. steel extension bar with 3.5″ I.D. wand holder
Finish: Painted Metallic Gray
Tilt Table Actuator: Heavy duty, multi-ply air bag
Max Air Pressure: 100 PSIG
Air Consumption: Approx. 2 CFM per cycle at 43 PSI
Shipping Weight: 450 lbs.