Vision System – PE-600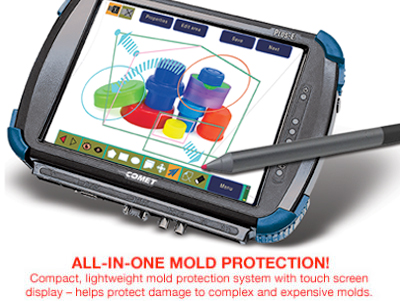 Introduction
Comet's PE-600 is a compact, lightweight, all-in-one mold protection device with sharp, digital color imaging technology resulting in reduced errors caused by outside light, illumination reflection, mold shadow, resin residue, and more.
This advanced color technology, unique to the PE-600, brings functionality and simplicity to a whole new level while improving accuracy. The PE-600 also provides a database that stores inspection data, including images, so you can review previous cycle information when trouble occurs.
Detect…
Defective parts
Molded parts trapped in the cavity
Jammed or broken core pins and plugs
Shorts and flash
Insert loading errors
Both positions of the slide core and top pin centering
Metal die casting errors
Simple image inspection
Features
Color Image Processing: Reduces errors caused by outside light, illumination reflection, mold shadows,and resin residue.
User-Friendly: Large color touchscreen (10.4″) makes it easier to monitor mold and significantly improves operational performance.
Increased Productivity: Digital data processing speed of 0.012 seconds plus original image processing technology.
Easy Operation: Automatic setup and condition settings using the simple touchscreen display.
Lightweight: Weighs only 3 lbs. allowing you operate the unit with one hand while setting the parameters or monitoring the screen with the other.
Precise: The high accuracy camera and 1900 x 1080 pixel display enables precise monitoring of even the smallest molded parts and the most intricate mold details.
Stable Monitoring: Unique compensation technology minimizes external light interference and machine vibration, preventing unexpected minor failures even on precision molding.
Two-Camera Monitoring: Since one unit can handle up to two cameras, you can monitor both the detail of multi-cavity small parts while also monitoring large-size molded parts.
External Data Storage (patented): Easily store the setting conditions of each mold, monitor log data, and capture NG images for later viewing from a CF card. At your convenience, analyze the data and images to attain solutions for molding problems right on your PC.